September 28, 2021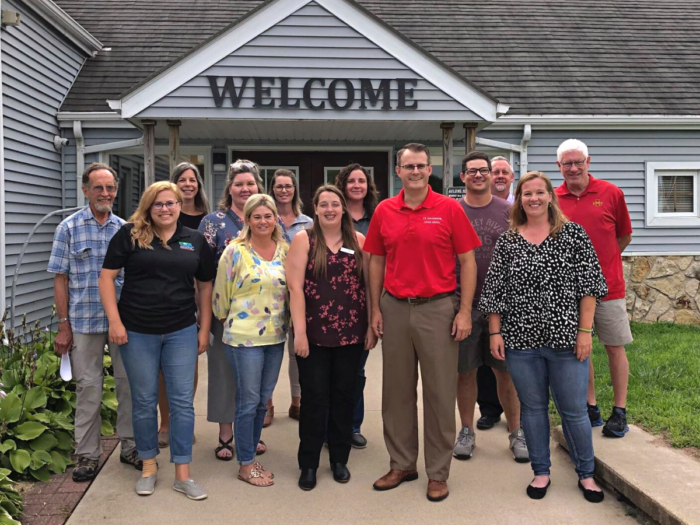 Iowa Lt. Governor Adam Gregg visited Osborne Nature Center in July to learn more about "Attracting Success in Clayton County" as part of his 99 County Tour. He was interested in this exciting new project spearheaded by Jenna Pollock, Clayton County Conservation Executive Director.
According to Pollock, the purpose of Attracting Success in Clayton County is "to engage young adults and young families, and to grow a strong Northeast Iowa Young Professionals Network."
"Northeast Iowa is known for its natural scenic beauty. Few people know the vibrancy of our diverse and growing young professional workforce. Clayton County hosts diverse industries, and with the installation of broadband services, expanded our ability to host telework occupations. Outdoor recreation amenities that complement the natural beauty of Northeast Iowa attract young adults and young families. There's a growing appreciation for less crowded areas, like rural Clayton County, that check all the boxes for quality of life: affordability, community vitality, engaging lifestyle, and outdoor recreation."

Jenna Pollock, Clayton County Conservation Executive Director
Pollock explained they are producing promotional videos that highlight young professionals demonstrating the Clayton County lifestyle. The videos' target audience includes students planning for their future, young adults looking to start and or/grow career experiences, and young families building family memories and work/life balance.
Future project phases will also include a marketing campaign, a YouTube channel, and a 2022 Summit for Northeast Iowa professionals.
During the roundtable discussion, Lt. Gov. Gregg expressed that the initiative is "on point" for rural Iowa. He encouraged the Attracting Success organizers to target alumni from local school districts. For funding, he urged the Attracting Success committee to pursue a pilot program with the Rural Return Incentive, connect with the Community Foundation of Greater Dubuque, Iowa Rural Development Council, and use the Empower Rural Iowa Initiative.
Alpine Communications is a sponsor of the Attracting Success initiative and matched funding through the Iowa Area Development Group Ripple Effect grant program.
"Alpine Communications hosted the Connected Communities Summit in October 2019 to showcase and educate community leaders, small businesses, and area stakeholders on leveraging fiber-optic broadband to grow our region. The "Attracting Success" project will utilize broadband as one of the many amenities Clayton County offers for young adults, families, and entrepreneurs. The COVID-19 pandemic has amplified the importance of quality broadband connections, especially in rural areas.  Remote workers who use broadband services also appreciate Clayton County's natural beauty, space, affordability, and culture. It's exciting to see the Connected Communities Summit's mission come full circle to a video campaign, website, and summit to attract people to our area."

Chris Hopp, General Manager/COO of Alpine Communications.
Visit the Northeast Iowa Young Professionals Network to watch the latest "Attracting Success" videos or join the Northeast Iowa Young Professionals on Facebook.
Contact Alpine Communications for more ideas on how we can leverage fiber broadband to help Northeast Iowa thrive!
Connect With Alpine →