August 25, 2022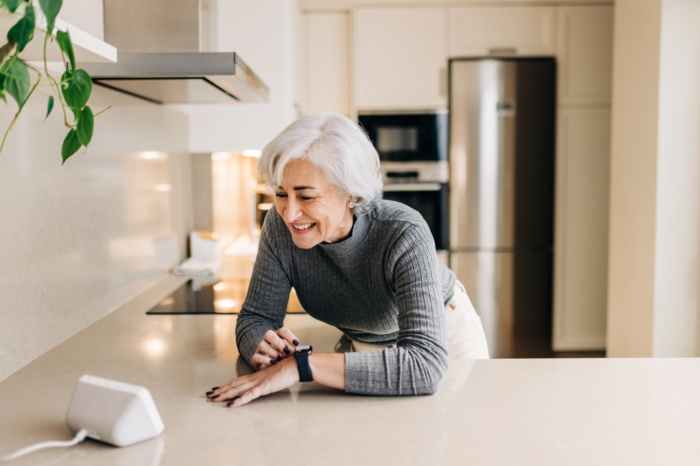 Every year, more and more American seniors—over 55 million of them, according to the AARP—are living independently and "aging in place" at their homes.  Our seniors have earned the peace of mind of a safer, more secure life in their own homes. And given the excessive costs of senior living facilities, many seniors are better off financially remaining in their homes for longer, too. 
But many seniors and their families are rightly concerned about the health and safety of remaining independent in their own homes, especially if they live alone. This is particularly true of the dreaded medical emergency or a fall.
Fortunately, technology has greatly improved safety and security at home—the kind of safety and security that can keep seniors living independently in their homes. With today's technology, seniors—and their families—can rest assured that their golden years and their independence can be enjoyed far longer and with the dignity they deserve.
At Alpine Communications, we do more than just provide the fast, dependable internet you've come to count on for entertainment and productivity. We develop and maintain networks that keep your service as reliable as possible to facilitate life-saving technology in your home. 
By utilizing today's smart home technology and other safety and security features—enhanced by Alpine Communication's high speed internet—seniors can confidently enjoy their retirement in their own homes.
Below, we highlight some of the technology available to seniors today that can make them live at home more independently and safely than any previous generation before. Read on to learn more!
Personal Emergency Response System
Alpine Communications' Personal Emergency Response System (PERS) forms the cornerstone to keeping seniors independent and confident to remain living at home. Its cutting-edge technology means that help in an emergency—from a medical scare to a fall—is always at hand, even when a phone is out of reach and a family member is not there to quickly assist.
The Personal Emergency Response System is available 24 hours a day, 7 days a week. At the touch of a button, you or your loved one will be connected to emergency contacts to get help as fast as possible. The PERS features two-way voice communication right on the device, so there is no fumbling around for a phone or even a need to dial a phone number—just a simple press of the button and the connection to trained emergency assistance is immediately available. 
Smart Home Technology
Today's Smart Home technology also makes basic, daily tasks easier and safer for seniors. For example, by utilizing Smart Light Bulbs, seniors can turn the lights on or off just by using their voice, reducing the need for awkward positioning and bending that can sometimes lead to falls or other injuries. Smart Light Bulbs' voice activation also means that there's no more need to grope along walls for light switches, too, making nighttime walks to the bathroom or kitchen far safer. 
Many Smart Light Bulbs are compatible with Amazon's Alexa, Google Home, and other Smart Home devices, which are connected to Alpine Communication's reliable internet. So your loved one can easily integrate Smart Light Bulbs into their Smart Home through these easy-to-use voice-controlled devices. And our basic security package includes a Smart Light Bulb, as well!
Another unique smart home technology benefit is a smart camera. Smart cameras allow more than just a visual of your loved ones. They also allow two-way voice communications so you and your loved ones can enjoy virtual visits, video conversations and check-ins whenever you want. 
Motion sensors also serve as a resource to tell when loved ones are up for the day, get up in the middle of the night or do not have any activity for a specific period of time. 
Smart Security
Smart Home technology can help seniors stay more secure, in their homes, too. And recent innovations go well beyond traditional security systems like burglar alarms or even surveillance cameras. Smart Home security technology is fully integrated across the home's internet, providing protection almost anywhere in the home. 
Exterior Smart Cameras allow a loved one to know if an unknown person approaches a senior's property. And indoor Smart Cameras can let an adult child check-in if unable to get in touch with their elderly parent. Other Smart Home advances like door sensors can alert caretakers if areas such as medicine cabinets or refrigerators have been accessed. Taken together, these state-of-the-art technologies can help seniors feel safer and more secure in their own homes, even if they are now living on their own.
Your neighbors at Alpine Communications are honored to be a part of helping our seniors live more fulfilling and self-assured lives at home. And because our internet is so reliable, you'll be confident that your Smart Home and its safety and convenience features will always be there for you. 
To learn more about how technology can make living easier and safer for you and your loved ones, visit  https://alpinecom.net/residential/home-security-system/smart-security and visit our Smart Security pages for more information,