February 7, 2020
As we approach Alpine's 23rd year of business in Northeast Iowa, we also celebrate another important milestone.  In March 2003, Alpine Communications moved all customer service operations to a newly constructed building in Elkader.
Creating a personalized service experience for customers was one of many local investments during the early years of the company.  We hired new staff, streamlined processes, and internalized functions that were previously outsourced because of logistics. Most importantly, we got to know our customers and community on a new level.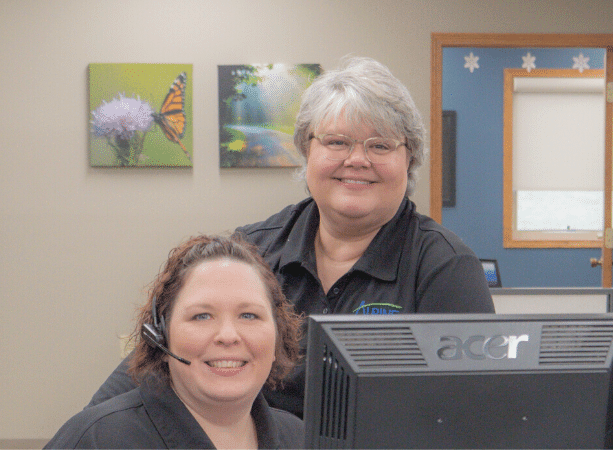 Lori Keppler and Lanette Schutte were the first local customer service representatives in Elkader. We congratulate them on celebrating 17 years of helping customers connect the way they want to. The knowledge they have gained, the expertise they continue to share, and the relationships they have forged are impactful and invaluable to our organization.
A lot has changed over the past 17 years since Customer Service relocated to the heart of Alpine's service area.  One key element remains the same: our belief that personal connections make the difference.
We invite you to visit our office the next time you are in Elkader. Here are a few unique experiences that you will only get locally at Alpine Communications:
Recently we participated in Elkader's First Annual Brownie Bash. The Alpine Mint Brownies were a hit, and we enjoyed connecting with the community! Here's the recipe for our signature treats:
Alpine Mint Brownies
Alpine Mint Brownies are a decadent crowd-pleasing treat!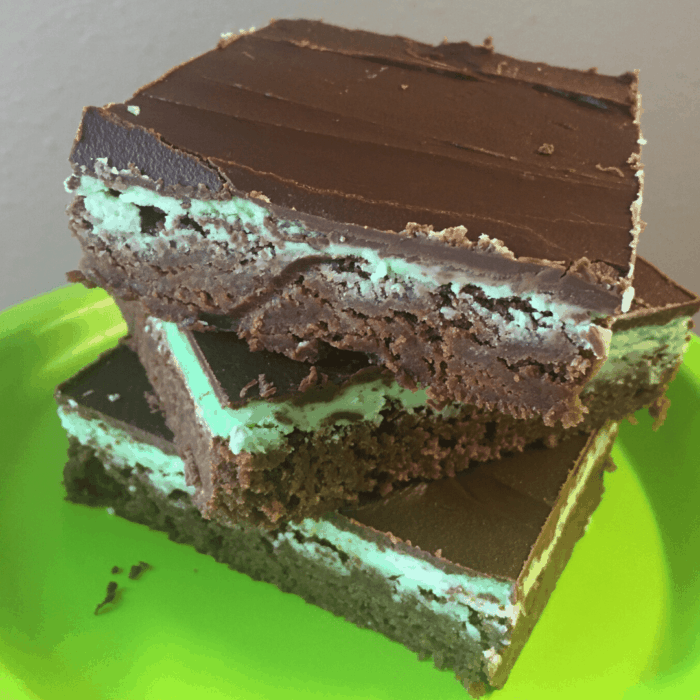 BROWNIE Layer:
1 1/2 cups butter (melted)
3/4 cup cocoa
3 cups sugar
6 eggs (beaten)
1 1/2 teaspoons vanilla
3/4 teaspoon salt
2 1/4 cups flour
Brownie Layer: In a large bowl, whisk together melted butter and cocoa. Add sugar, eggs, vanilla, and salt. Mix well, then stir in flour by hand. Do not over mix.
Spread batter in greased 12 x 17-inch cookie sheet and bake at 350 for 25-30 min.
Cool and then put in the freezer for 20 minutes
MINT LAYER:
1/2 cup soft butter
5 cups powdered sugar
1 tsp peppermint extract
Pinch of salt
4 Tbsp milk (approximately)
A few drops of green food coloring
Mint Layer: Mix butter, milk, powdered sugar, and extract. If you want to add color, add in food coloring (you could also use red food coloring).
Remove from freezer and frost brownies, then put in the freezer for another 20 minutes.
CHOCOLATE FROSTING LAYER:
2 cups semi-sweet chocolate chips
6 Tbsp butter
Chocolate Layer: Melt chocolate chips and butter in the microwave and spread on top of the frosting layer. Freeze another 20 minutes to set.
To serve: Use a sharp knife, run the knife under warm-hot water before cutting. Wipe your blade on a paper towel or cutting board edge after each cut if frosting has accumulated. Reheat the knife in hot water throughout the cutting process.