March 5, 2021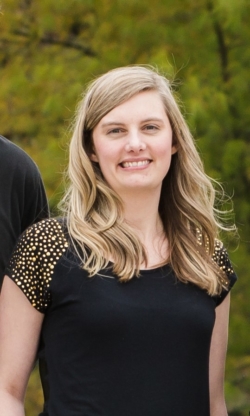 With Guttenberg's Community Vitality Director, Emily Yaddof, at the helm, the community has an experienced leader to navigate the choppy waters of COVID-19. With clear goals for Guttenberg, Emily is charting a course for success.
---
The City of Guttenberg invested in the future of the thriving river town by creating the new position. Emily explained, "Guttenberg has a lot of great groups and community organizations working on projects. My role is to help bring people together to collaborate, so Guttenberg has a comprehensive community view of the projects these groups are working on."
Yaddof is functioning under the Community Vitality Advisory Team's purview and has two primary goals: new business recruitment and business retention; and Guttenberg beautification efforts. For example, part of the beautification goal is to improve trail connections and Emily is currently coordinating efforts to add more recreational trails to the community.
"My Community Vitality Team worked with Wellmark's Healthy Hometowns to do a biking audit last fall and the City Council approved doing a trail study this spring. I'm also exploring partnerships with other groups, like the school and the Guttenberg Rotary Club, to incorporate things like trail signage and bike racks in the community as well. Trails make communities more attractive places to live and visit, so I'm very excited to be supporting this momentum to add more trails to the community."
Last fall, Emily and the Community Vitality Team conducted a market analysis survey. The survey results are part of a business recruitment packet of resources that would help someone interested in starting a business in Guttenberg. Read the survey online.
Guttenberg's 100% fiber-optic network infrastructure from Alpine Communications is a boon for attracting teleworkers. Yaddof explained, "remote work is a significant opportunity (for Guttenberg)." According to the Bureau of Transportation Statistics, 29% of Iowa's population lives in a household where at least one adult teleworked in 2020-2021 – up from 7% in 2019.
She explained Guttenberg's amenities, such as the Mississippi River, low cost of living, culture, and fiber-optic broadband, attract remote workers to move to smaller communities. Furthermore, rural areas give residents space and the ability to maintain an active lifestyle.
According to Yaddof, eCommerce is an opportunity for Guttenberg enterprises, too. She shared, "COVID-19 has prompted businesses to launch eCommerce sites, which means customers can support them from a distance when they preferred not to travel." She notes how many Guttenberg restaurants, manufactures, and shops have pivoted their operations, too. "Companies are connecting with their employees, customers, and vendors using virtual meetings because they have fiber-optic Internet service from Alpine Communications. "They have the speed – it's reliable and efficient," shared Yaddof.
Guttenberg remains a resilient, innovative community that is on the course for a bright future. Emily invites community members to contact her to share ideas for Guttenberg or for help with solutions to challenges they are facing. Call Emily at 563-252-1161, ext. 214, or email her at guttenbergcvd@gmail.com.
Share Your Story →