September 13, 2019
FusionTV customers are experiencing a new level of television entertainment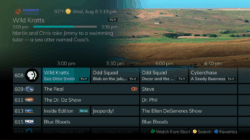 and more value as Alpine Communications delivers a series of enhancements and new features this year.  Investing in the future of technology and entertainment options for customers is one of Alpine's service standards and they deliver on this promise through continuously enhancing their products and services.
This fall, FusionTV subscribers will notice a number of enhancements to the FusionTV channel guide.  In the first phase, viewers will see an updated user interface with a brighter, larger look to the guide, weather, and menu.  In the second phase, FusionTV views will see network logos, season and episode numbers (when applicable), actor and director data in the program information, and more in the channel guide.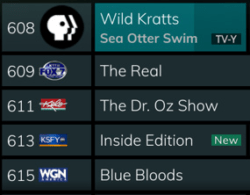 Alpine's whole-home DVR service is popular with many FusionTV customers because it enables users to watch recordings of their favorite shows, movies, and sporting events from any room in the home with a set-top box. Whole-home Cloud DVR gives users the power to control their TV watching experience which means they can record their shows and watch them when it's convenient.
Earlier this year, Alpine's Whole-Home DVR service evolved with the introduction of cloud services. This enhancement removed some limitations for recording and viewing events. FusionTV's Whole-Home Cloud DVR service gives users the power to record more streams than before – up to 10 streams at one time – and more storage capacity.  DVR recordings are safely stored in the cloud which means you won't lose your library of recordings in the event of set-top box failure.
One of the most innovative enhancements to FusionTV was the addition of Restart TV. This new feature allows users to restart a TV program that is already in progress.  Or if they are browsing channels and see a show they wanted to watch that has already begun, they can restart it and watch it from the beginning.  Whole-Home DVR subscribers can record a program already in progress from the beginning, too.  Restart TV also gives users the ability to pause and rewind live TV from any set-top box in the home.
Alpine Communications recently launched Alexa and Google smart speaker integration to stay on-trend with the skyrocketing popularity of smart speakers.  The compatibility with popular smart speakers such as Google Home and Amazon Echo enables customers to verbally control their FusionTV experience. Consumers who have physical limitations now have the ability to ask channel surfer such commands as tuning to a certain channel or to let them watch the last channel they were watching.
Lastly, Alpine introduces the MyTVs app on Android smart phones and iPhones. FusionTV users can request a channel change, search for programming, play a recording, restart a program, pause live TV or complete many other important remote control functions with the MyTVs app.
Since 2007, Northeast Iowans served by Alpine Communications' 100% fiber-optic Fusion Network has made FusionTV the top-rated and most popular television service within their service territory.* Experience FusionTV service yourself and see why so many people choose Alpine Communications. Call 563-245-4000 or visit www.alpinecom.net to learn more.
*According to research performed by Alpine Communications in 2018.