October 24, 2022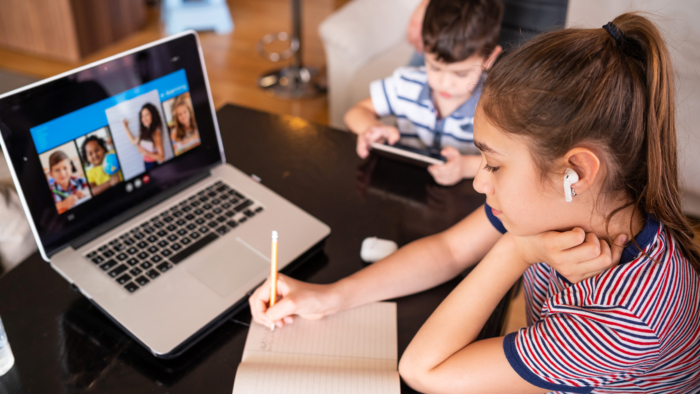 As technology has improved over the past year, it's time to consider new devices and tech to make this a productive and engaging school year.
And with Alpine Communications high-speed internet, your child can utilize this new tech at home, giving them an edge on learning and helping them explore their world.
Below we highlight some of the best devices your student can use and break them down by grade level. The grade level groupings compare the tech based on durability, versatility, educational needs, uses, power, speed, and other factors. Each grade level has unique technology needs, so the devices need to change as your child progresses.
The three types of devices highlighted below—tablets, e-readers, and laptops—could be used at any grade level depending on the maturity and responsibility of the child. And in many ways, kids can use each device in tandem.
For example, an e-reader, which we suggest at the middle school level, can be helpful for all grades and ages. And high school students could also benefit from a tablet, in addition to the laptops we recommend.
Read on to discover our best device recommendations for all grade levels!
Elementary School—Time for a Tablet
We recommend more durable devices to protect against drops, bumps, and even the occasional toss for an elementary school student!
We are also mindful of devices that are easier to hold and handle in their smaller hands.
Consider purchasing a solid, well-protected tablet like the Amazon Fire HD 8 Kids Edition to meet most elementary school children's needs. This tablet, which comes with a built-in, rubberized protective case and an 8-inch display, is designed specifically for younger children.
Parents will also appreciate the monitoring and control features and Amazon's two-year replacement policy. You may also consider the slightly larger Fire HD 10 Kids Edition, which features a 10-inch screen that some elementary school kids (and middle school students) can easily use.
Middle School—E-readers Stimulate a Lifelong Love of Reading
As reading requirements intensify in middle school, including longer novels and literature, parents should consider a dedicated e-reader for their children.
E-readers include features created specifically for reading books and other texts like articles without the distractions of multi-use tablets or smartphones.
Most e-readers feature pleasing background lighting, textured fonts, simple note-taking, and highlighting tools. And the middle school years may just be the best time to introduce an e-reader to your child.
The Kobo Clara HD e-reader is an excellent choice for middle schoolers (and high school students, too). The Kobo Clara HD is compact enough to hold with one hand and carry from home, on the bus, and from the classroom to the library.
It also features a 6-inch display screen with an impressive 300ppi (pixels per inch) and multiple lighting options to select throughout the day and night. In addition, the Kobo Clara HD enables students to open and view many different files and e-publications (far more than Amazon's Kindle), and you can rent titles instead of purchasing them.
It also has outstanding battery life that can go weeks without recharge!
High School—Laptops for Multifunctionality and Power
When your student reaches high school, it may be time to bite the bullet and buy them a great laptop.
Tablets, such as the iPad or Amazon Fire, have improved in processing speed and various applications. But they are likely not robust or diverse enough for high school students.
We highly recommend Apple's "entry-level" laptop, the MacBook Air M1. 
Though it clocks in as Apple's least expensive laptop, it's also among Apple's most innovative. For example, the Air M1 utilizes Apple's new silicone chip technology specifically designed for use with macOS software.
And rather than using cooling fan technology (which weighs down laptops) to prevent overheating (and accompanying system slowdowns), the Air M1 has an aluminum heat spreader to disperse heat more efficiently. Its battery life, lasting upwards of 18 hours, is outstanding for a laptop, letting your high schooler get through the school day and beyond on a single charge.
We have two final machines you should consider.
First, for high schools using Chromebook's academic programs (like Google Classroom), the HP Chromebook x360 14c, with its 13.3-inch display and Intel Core i3 processor, is a first-rate choice that will suit most high schoolers. It's also a 2-in-1 device, meaning your child can use it as a tablet.
For fans of Windows-based machines, the Gateway GWTN141 is an excellent budget choice that might even suit middle schoolers. It sells for $500 and is packed with features, an Intel Core i5 processor, and 10 hours of battery life.
All the devices above can help give your child a leg up on their education, no matter their grade level. And once these devices connect to Alpine Communications internet network, their learning opportunities will never end!
To learn about devices and technology that can help you make the most of Alpine Communications fast, reliable internet, follow our social pages!