December 17, 2022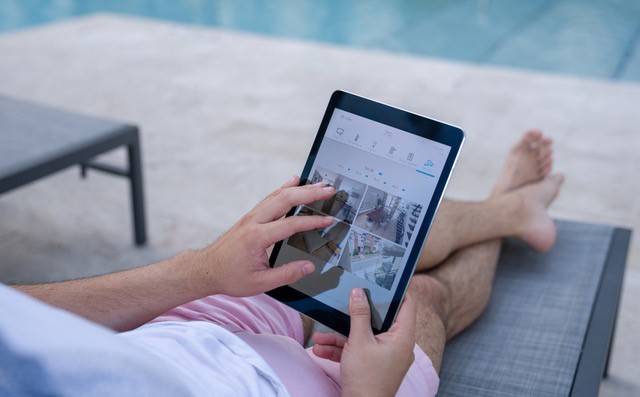 Your top priority is keeping your family and home protected and safe from harm. 
Thankfully, today's technology can help you feel safe by making you more aware of what's happening outside your home, no matter where you are. And smart home technology can help deter crime, as well.
Your neighbors at Alpine Communications understand your concerns and desire to keep your family safe. We are also a part of our community and are proud to help serve and keep people informed, connected, healthy and secure. That's why we've put together this brief guide to smart home security that anyone connected to our high-speed fiber network can learn from and put to good use.
This concise overview highlights some of the most well-regarded smart home security measures and technology recommended by home safety experts. 
Smart Doorbells
Smart doorbells help you see who is at your door before you answer. They also monitor any activity on your doorstep, front porch, driveway and even on the street in some cases. These devices can help prevent deliveries and packages from being stolen and deter suspicious activity at your home.
Smart Security Cameras
A smart security camera setup is a must for those looking for more robust security. 
You can install a smart security camera system anywhere in or outside your home, from the driveway to the backyard. Many smart security cameras are designed with motion sensors, so any time a person—or even larger wildlife—is detected, you will know it. 
You can also use smart security cameras with motion-sensing outdoor lighting, which will also help deter unwanted visitors. Best of all, smart security cameras connect to your home's WiFi and all your devices, keeping you notified of activity outside your home.
Smart Lighting and Glass-Break Detectors
Other state-of-the-art smart home tools can improve safety and security. 
For example, glass-break detectors can alert you to intruders. Because they connect to your home's fiber network, your family will be notified of a break-in. 
And smart lights detect motion and send notifications to your phone or tablet, alerting you to be on your guard.
Personal Medical Alert and Emergency Devices
Seniors and others with mobility limitations or chronic health problems need quick communication with first responders.  
When there's an acute health emergency or other safety concern, personal medical alert and emergency devices can connect people to first responders at the touch of a button. During an emergency, there's no need for seniors to locate and use a phone, as making contact with emergency personnel is simple and fast with these outstanding devices.
Don't Forget About Network and Online Security
At Alpine Communications, we take the security and stability of our network very seriously. Our engineers and technicians constantly work to keep the network safe from attacks.  But there are also some steps you can take to protect your data and online privacy.
Keep your home network safe from hackers and phishing attacks by using strong anti-virus software and apps on all your devices, as well as password managers to safeguard your accounts. 
And be sure to use a complex password that is difficult to guess—and not the same as all of your other passwords! Ad blockers can also save both aggravation and the unseemly tendency of advertisers to track your online activity.
These are just some innovative devices and services available to put Smart Home technology to good use for home safety and security. But as always, practice common sense in and around your home and online.
Keep front and back doors locked (and car doors, too). And avoid clicking on suspicious emails or untrustworthy links, so you don't become a victim of a security breach. 
Don't forget that smart technology and intelligent decision-making keep our neighborhoods and communities safer.
Follow Alpine Communication's social pages to learn more about how smart home technology can help make your home more efficient and safer.