June 14, 2019
Alpine Communications is excited to announce another phase in creating connected customers through fiber broadband.  More than 140 residents who reside in a select region south of Guttenberg, Iowa and stretching beyond Millville, Iowa will receive Alpine's 100% fiber-optic Fusion Network by the end of 2019.  The announcement of this construction project rounds out a year of fiber-to-the-home expansion for Alpine Communications. Two additional fiber construction projects are occurring in the Canoe Road neighborhood in Elgin, Iowa, and parts of rural McGregor, Iowa along US Highway 18 to more than 180 residents.
Chris Hopp, Alpine Communications General Manager, emphasized the importance of connecting rural customers to fiber broadband. He said, "We're making a major investment to the customers we serve by bringing fiber optics to rural parts of our service area. Fiber technology gives our community members virtually unlimited bandwidth, blazing-fast internet speeds, exceptional TV picture quality, reliable connections, and so much more. Fiber technology has also been known to increase home values and boost economic growth for the places that have it."
Since 2007, when Alpine Communications built the first fiber network in Elkader, Iowa, they have been on a mission to create connected communities through improving the broadband infrastructure with fiber-optics. Additionally, homes and businesses in the Iowa towns of Guttenberg, McGregor, Marquette, Elgin, and Garnavillo have a fiber-optic connect with broadband speeds capable of over a Gigabit.  Alpine's investment of more than $14-million-dollars to build a fiber broadband network is rooted in their belief that connected communities become thriving communities.
What makes Alpine Communications unique is that they have enlisted their customers to give them feedback and direction on where to take fiber next.  Residents are encouraged to go to join.alpinecom.net and register their interest in fiber-optics. Nearly 400 customers have expressed their interest in upgrading their services to Alpine Communications' Fusion Network. Customer demand is one of the factors that Alpine uses to determine future fiber builds.  It is a primary reason why Alpine selected rural McGregor and rural Guttenberg for its fiber-to-the-home construction project in 2019.
Recently, Iowa Governor Kim Reynolds said, "Connecting our rural communities is fundamental to all aspects of growth and prosperity. By continuing to invest in our broadband infrastructure, Iowa will be extremely well-positioned for the disruptive 21st-century economy." Alpine Communications is doing its part to ensure rural Iowa is positioned to thrive.
Visit our Stories page to read how customers and communities are benefitting from fiber-optic broadband over Alpine's Fusion Network.  If you live in Alpine Communications' service territory and want fiber to your home, register at join.alpinecom.net.  Alpine serves the Iowa communities and rural areas surrounding Clayton, Clayton Center, Elgin, Elkader, Elkport, Garber, Garnavillo, Giard, Guttenberg, Littleport, Marquette, McGregor, Millville, Osborne, Osterdock with internet, television, cellular, security … and telephone too! Alpine Communications promises personal, timely, reliable service from people who live here.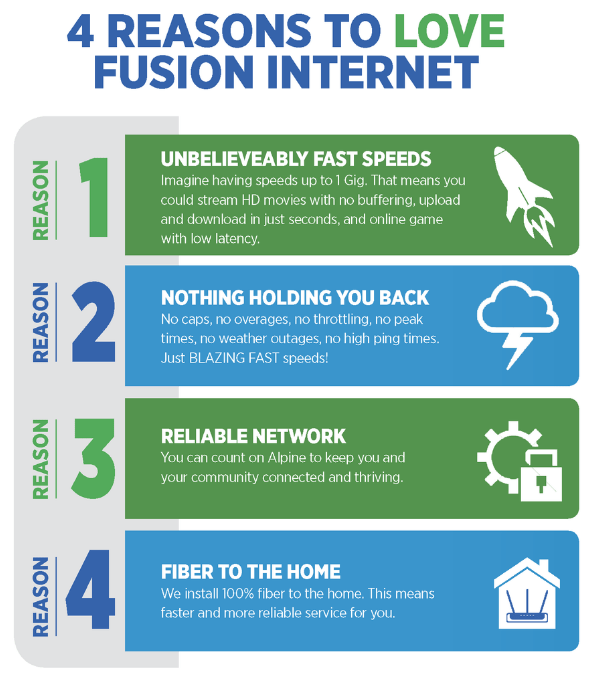 Share Your Story →