April 5, 2022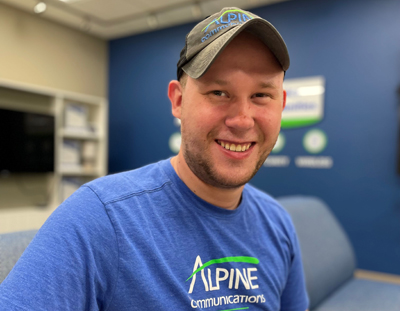 Alpine Communications is glad to have Elijah Hopp on our team. Elijah has been full-time with Alpine since July 2021. He is a jack of all trades working in both the Outside Plant area as a Broadband Technician and learning the ropes in the IT department. Elijah comes to Alpine from ATC Communications located in Atkins near Cedar Rapids, Iowa. It was there he developed his telecommunications skills for fiber splicing, construction, installations and troubleshooting.
Family was a big reason for moving back to the area. Elijah is the son of Chris and Christina Hopp of Elkader. He has two brothers and a soon to be sister-in-law. As a 2017 Central of Elkader graduate, Elijah continued his education at Minnesota West where he received an AAS in Telecommunications and Networking. He holds certificates in CCNA, AA+, Cisco networking and NEC phone systems.
Elijah says he enjoys many aspects of working at Alpine. It is an atmosphere where you can grow and learn with your peers. He especially loves helping customers find solutions to their telecommunication questions. Through his education and experience, Elijah stresses the importance of network optimization. That might mean updating devices, wiring, or placement of devices in homes.  Elijah insists, "Shortcuts shouldn't be taken when it comes to building internal home networks. They are the start to a great online experience."  
In his spare time, Hopp enjoys hunting deer and pheasants, landscaping, cooking and traveling. His favorite travel destination so far has been Maine. He also serves on the events committee for the Elkader Chamber of Commerce.
One thing he wants everyone to know about Alpine Communications is the range of services available: security systems, home monitoring, emergency response systems, cellphones, and phone systems. There is always someone available 24/7 to help customers with issues.
Over the last nine months at Alpine, Elijah has become someone peers can rely on for support. He is appreciated for his tenacity and customer care. Meet Elijah Hopp, Alpine Broadband Technician and so much more.