July 14, 2020
Ketaki Poyekar-Hauber journeyed halfway across the world from Mumbai, India to San Francisco, California, to pursue higher education. Ketaki and her Iowa-native husband, Tony Hauber, settled in Elkader in 2017 to realize their dream of starting a business.  Due to the nature of their business, the couple's success story would not be possible without broadband services. "Fast and reliable internet from Alpine Communications has made my online business possible," shared Ketaki.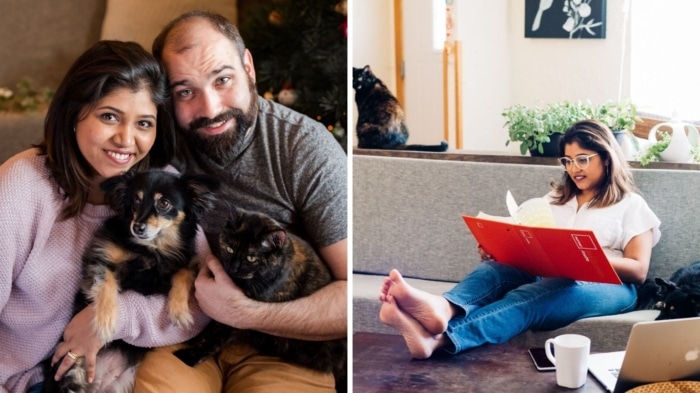 "I didn't know that (working remotely as an entrepreneur) was even possible when I moved here.  Because Alpine existed, it made my job easier to connect through the internet," she explained. Ketaki is the owner and designer of Studio K8Ki. "I style and build brands, websites, apps, murals, and more. I also consult with businesses to help them operate in the online world." You may recognize Ketaki's work if you've seen the "Stay Wild" mural in downtown Elkader. The vibrant wall painting was part of an "art in the alley" community beautification project in 2019 and has been a popular backdrop for photos on social media ever since.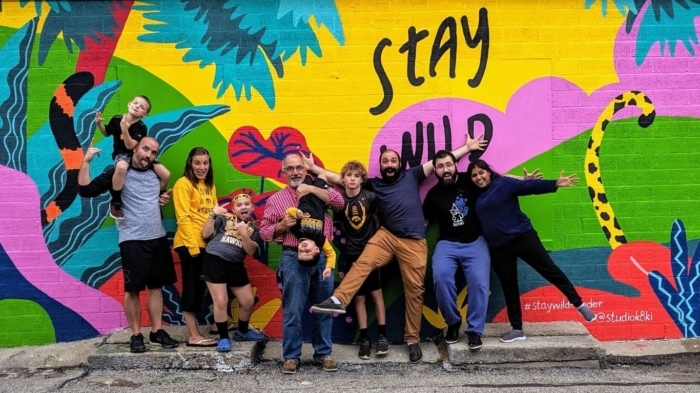 When asked how Ketaki uses technology in her business, she shared how it keeps her connected locally and globally.  "Since I run my business remotely from home, I communicate via email, video call, Slack. I share files via Dropbox. My project management service is also online so that I can send proposals, invoices, and take payments online."  Studio K8Ki's primary marketing and customer relations channels are digital platforms. "I use Facebook, Instagram, Pinterest, and email marketing for my business," shared Ketaki.
The internet is a "huge part" that connects Ketaki to her clients from all over the world. She also contracts with a unique startup company, Scorbit, that is bringing pinball gaming into the internet era.  Ketaki explains how broadband connections and web applications enables Scorbit's team of developers and designers to connect 24 hours a day, seven days a week. "Our team is spread around the world. Some are in the Bay Area, New York, France, Ukraine, UAE, Uzbekistan, and I'm here in Iowa. We all are working at our convenient times around the clock and sometimes working simultaneously on the same thing, but online."
Ketaki and Tony appreciate the quality of life, close-knit community of the Midwest versus the Silicon Valley. "We had big dreams with a small-town budget, so we moved to Elkader to start our businesses." She continues, "We didn't know anyone in San Francisco, we didn't know our neighbors.  Here, everyone waves, and we love that." There are trade-offs for living in rural Iowa, such as missing her favorite cuisines and public transportation.  "The flexibility of working remotely gives me time actually to live life, too. Now we participate in more activities. Kayaking, hiking, and biking have been a huge part of my life since moving to Midwest," said Ketaki.
Poyekar-Hauber values having space during the pandemic. "If I lived in a city that was more densely populated, I think this time would have been more difficult for me. Living in a small town, we have our yards, and we can go hiking. It gives me a sense of living life and investing in ourselves."
Technology keeps Ketaki's business thriving but also connects her to her family in India. "I communicate with them through the internet as well. We do video calls, share photos, send money, and I pay my student loan from India online. I also play online games with my friends. Technology has reduced the distance between us and keeps us connected."
Ketaki Poyekar-Hauber, Owner and Founder of Studio K8Ki in Elkader, Iowa
Ketaki believes welcoming diversity and accepting culture will help attract more entrepreneurs to rural Iowa. In her viewpoint, centers for learning and co-working spaces are essential to building thriving communities in the 21st century, too. She pointed to Ambitek, a new eLearning and eSports business in Elkader, as a prime example of learning and collaboration in the future.  Recently, Ketaki and Tony teamed up to develop a mobile app called Elkader Eats. It's a food delivery service that utilizes technology to connect small businesses with local consumers.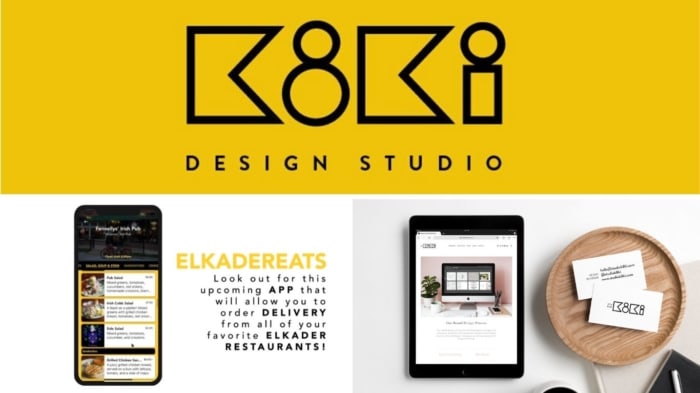 With the rise of the "flexible economy" and the rapid growth of remote workers, Ketaki Poyekar-Hauber demonstrates how broadband technology is key to success for rural communities and entrepreneurs.
Connect with Ketaki Poyekar-Hauber
Ketaki's Sign Project – Thank You Frontline Workers
Free Resource – Small Business Survival Guide
Studio K8Ki Facebook https://www.facebook.com/studiok8ki/
Studio K8Ki Instagram https://www.instagram.com/studiok8ki/
Share Your Story →