February 13, 2020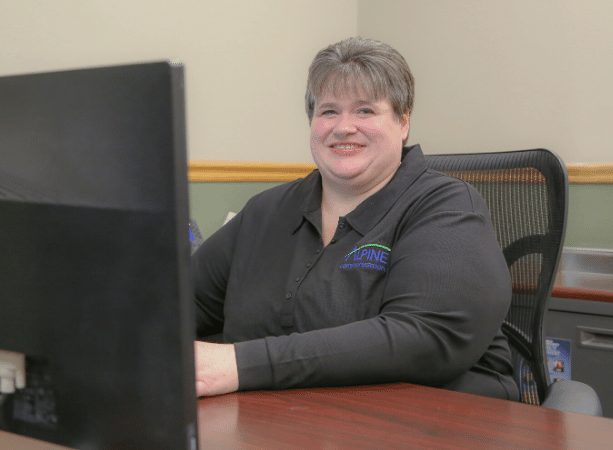 Accuracy, trustworthiness, and loyalty are the combination of traits that Margaret Corlett attributes to her success at Alpine Communications. Connecting with customers, co-workers, and the communities that Alpine serves for over 14 years is how she derives satisfaction from her work.  
In accordance with her trade, accounting for things, and the responsibility that goes with her role is what ignites the most passion for her work.  Margaret comments, "I enjoy the challenge of digging into questions and investigating to find the answer." Margaret also serves as Alpine's Human Resources coordinator. 
During her tenure at Alpine, she is most proud of improving processes that create efficiencies for her department. "We've implemented modules within our software such as material inventory, accounts receivable, payroll, and asset tracking, which helps track and investigate things more easily," she added.   
Curious by nature, Margaret tenacious about improving her skills. The telecommunications industry is highly regulated, and Margaret has expanded her knowledge to ensure Alpine complies with regulatory rules. "I've implemented changes to our website to ensure all network disclosures are easily accessible for our customers," she noted. 
Margaret shared how she values teamwork. As a decision-maker and financial advisor, she plays a vital role in the future of Alpine Communications.  Her co-workers will say that Margaret is known for her "get-the-job-done" work ethic. Furthermore, she is courteous of other's time and takes the extra steps to ensure her peers and vendors have the information they need to do their jobs. "I work very hard to prepare for our annual audit. I like being able to get it right, so the auditors have everything they need," stated Margaret.   
When asked where she sees herself in her career five years from now, Margaret reinforced her desire to expand her regulatory knowledge. She added, "It seems like the regulatory part of my job requires more and more of my time. I am developing my staff to handle more financial tasks in the future." 
Outside of work, Margaret treasures time with her family and serves her community. Farmersburg residents may recognize Margaret as the former mayor and city council member. She volunteers throughout the community for various events. She and her husband, Brad, of 14 years moved to Elkader in 2017. They have two grown children, Robert and Ashley. They also have three dogs: Pepper, Buddy, and Tanner. She grew up in the Oelwein area and graduated from Upper Iowa University with a degree in Accounting and Management.  
One thing most don't know about Margaret is that she is an accomplished pianist and has played the piano since she was six years old. She often accompanied at area churches in her youth, and her favorite composition is "The Lord's Prayer." 
Those that know Margaret well would describe her as outspoken, willing to share advice when asked, and supportive in their decisions.   Three words that always describe her are: loyal, outspoken, and trustworthy.  
In the Loop
Nickname: Maggie.
What makes Margaret laugh: her husband Brad's antics, especially the time when he dropped a full gallon of paint, and it splattered everywhere.
Quirkiest thing about Margaret: she is a self-proclaimed "germaphobe" and washes her hands a lot.